Hydraulic Equipment Repair Service
Industrial Hydraulic Equipment Repair Service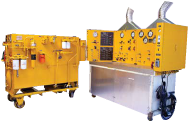 No matter what failure your hydraulics or pneumatics encounter, our OEM trained and certified technicians can handle the repair. We specialize in fast, efficient repairs of all equipment, with a focus on detail and thorough testing. We repair all models of every manufacturer of hydraulics and pneumatics including:
All the testing and repairs are done in-house in our state-of-the-art testing, repair and maintenance facility. We have everything we need to perform complete checks and repairs, plus tooling and the parts to perform rebuilds as part of our industrial hydraulic maintenance service.
Industrial Hydraulic Maintenance
All repair services at our facilities are performed by certified and trained technicians, we offer a complete review of your equipment. Hydraulics and pneumatics follow a rigorous process that includes them being:
Disassembled
Cleaned and inspected
On-board electronics are fully tested and repaired
Elimination of scoring from pistons and shafts
Cleaned of contamination
Machine work on cylinders and shafts reviewed and performed
Fittings are checked for tolerance
All contact points are resurfaced
Bearings and seals are replaced
It's a complete workup so you know that your industrial hydraulic repair service is thorough and complete. We review everything as if it was our own mission-critical component, focusing on optimizing efficiency and ensuring a fast turnaround time to give your business the greatest protection against revenue loss.
Common Checks for Every Repair

All repaired Hydraulic and Pneumatics will undergo extensive testing after repair so that your equipment will be working efficiently for years to come. The three most common industrial hydraulic repair service checks are:
Pressure tolerance
Specification checks from 10,000 psi
Specification check to 150 gpm flow
Our Services Promise

Every industrial hydraulic repair and maintenance service we offer is fully backed by an 18-Month In-Service Warranty review. We believe it is the least we can do when you put your future success in our hands today. That way, you get a warranty that beats the industry standard by 50%, and you know we're committed to giving you the best repair and maintenance service in the business.
Our warranty and our 24/7 leading customer support back up not only hydraulic and pneumatic repairs, but also every single piece of work we perform for a client. Mission-critical parts are our business, and you can experience reliable craftsmanship with best-in-class equipment each time you turn to us.
To help you feel more secure in our work, we also provide a standard repair time of up to five days, with free one-day and two-day rush service available. Those promises are covered by our price guarantee, where we beat any competitor's price by at least ten percent.
Our initial estimate and quote is always free and transparent. We'll explain our process and let you know that we run a complete diagnostic on any equipment that comes through our doors. Sometimes this uncovers additional points of failure or future problems. If that's the case with your equipment, our technicians will contact you right away to provide an updated quote and verify the repair process before moving forward.
That way, there are no surprises for you or your budget when it comes time to get back to work.
Factory trained technicians are here waiting to help you with your next industrial pneumatic or hydraulic maintenance repair project. Use the buttons below to contact us right away for a free quote or ask questions of our technicians, so you know we're familiar with your equipment and can provide the service it needs today.
Call us today for a complete quote on repairs of your hydraulics and pneumatics, or fill in the form below to request a quote online or ask a question or one of our technicians!